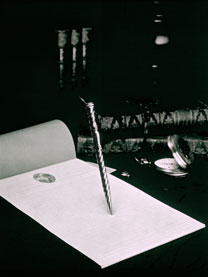 Ever since the establishment in 1912, innovation has been an integral part of our corporate philosophy. Correspondingly, the company's name Sharp is derived from our first major invention made in the year 1915, the "Ever Sharp Pencil", the first mechanical retractable pencil in the world.
Our goal has been and will be to win our customers' and partners' confidence through honesty and creativity. We are open to new things and oriented towards our customers' and users' wishes.
Today we are a leading manufacturer of digital information technologies. We not only strive to continually expand our business volume – we are also committed to contributing to the culture and the well-being of people all over the world with our unique, innovative technologies.

We think that ecology and economy are inseparably interlinked with each other. Therefore, the protection of the environment is an important part of our business philosophy. We develop eco-friendly products based on cutting-edge technologies. Since, after all, besides innovative power and efficiency, a sense of responsibility and credibility are elementary foundations of our success.