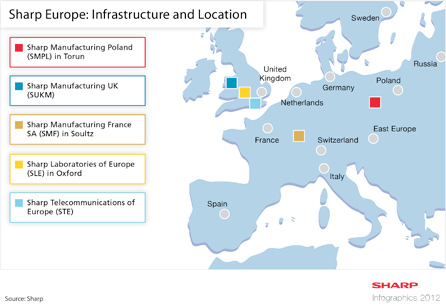 Research is progress
With our activities in Research & Development we are pursuing a simple goal: We want to improve the standard of living for people all over the world through innovative technologies. Therefore, we invest 6.5 per cent of our net sales in over 8,000 researchers and numerous research projects and facilities all over the world.
Linear optimization and quantum leaps
Basically, our research activities can be split up in two categories. First, we are consistently working on the enhancement of existing technologies and products – that is to say, we are pursuing constant linear optimization. Moreover, we are continuously breaking new ground as pioneers with our research projects. We develop and research innovative technologies and products which are the "quantum leaps" many further applications are based on.
Research facilities
Oxford – Tradition in innovation
Our central research facilities in Europe are the Sharp Laboratories of Europe (SLE) in the Oxford Science Park. Their research activities are focused on new technologies in the area of LC displays, information technology, semiconductor laser, voice and encryption software, and applications in bio-science. The European research facilities form part of an international network of R&D centres, e.g. in Japan and the USA.
Sharp Telecommunications of Europe (STE) – A leading-edge mobile technology company

Sharp's Mobile Technology portfolio encompasses a wide range of products including Mobile Phones, Smart Phone, PDA's and Mobile Internet Devices. Enabling Sharp Corporation to bring its communication devices to market, STE specialises in the research & development, design, testing and certification activities across the product range. Based in the heart of the UK's own "Silicon Valley", home to many of the leading telecommunications companies, STE is ideally positioned to be active with its partners in the region.
Factories
Sharp Manufacturing France SA (SMF)

Sharp Manufacturing France is a production center for digital B& W and colour laser multifunctional systems. Located in Soultz in Alsace, the site covers over 23,000 sq. metres and employs 200 people. Since its creation in 1989, SHARP Manufacturing France has produced over a million B&W and colour mulitfunctional laser printing systems. To meet customer requirements, SHARP Manufacturing France delivers custom made products directly, in a very short timeframe, to more than 1,500 destinations in 22 European countries.
Sharp Manufacturing UK (SUKM)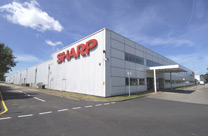 Located in Wrexham/Wales, the factory opened in 1984 and started with the production of video recorders and microwave ovens.
From 2004 to the end of 2013, SUKM produced 10 million solar modules. From March 2014, the plant will focus on microwave oven production.
Sharp Manufacturing Poland (SMPL)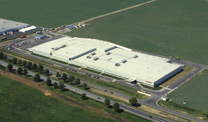 Sharp Manufacturing Poland Sp.z o.o. is located in the north-central part of the country near the city of Torun, a UNESCO World Heritage Site situated on the Vistula River. The factory began the production of LCD modules for LCD TVs in January 2007. After a construction period of only one year and an investment of some 44 million euro (six billion yen), since August 2007 the factory is also manufacturing Sharp AQUOS LCD TVs in addition to LCD modules. The Torun factory is a further expanding of Sharp´s global supply strategy, enabling it to service the demand for LCD TVs in the global target markets even faster and more directly. The core element of Sharp's global supply strategy is integrated production, i.e. combining the production of LCD modules and the final LCD TV in one plant. The Polish LCD TV factory covering the European market now joins other plants in Mexico, China, Malaysia and Japan (Kameyama).
In Torun Sharp has built not only an LCD TV factory but an entire industrial estate. The Sharp Crystal Park in Poland, is the home for suppliers to the LCD TV production close to the Sharp factory and covers 177 hectares. Shorter transport distances mean faster supplies , lower CO2 emissions and shorter delivery times.