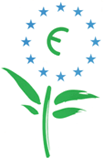 Sharp is proud to be the first manufacturer world-wide to receive the EU Eco-label for its TVs in 2005. By the end of Oct. 2009 nearly all Sharp TVs from our current line-up will have received this EU Eco-label.
Since Nov. 1, 2009, the criteria for the EU Eco-label have changed. They have become stricter and even more demanding than before.
These requirements do not only cover power consumption, but also consider the entire product and its environmental aspects.
We can already say that Sharp has met the challenge of the new criteria and can offer an array of TVs (see below) which comply with the criteria of the new EU Eco-label and thus demonstrates a positive contribution towards a better environment.
Further information is given in the Eco-label user instruction and manual which can be downloaded from the local Sharp product website. More information regarding the EU Eco-label can be found under http://www.eco-label.com.
Sharp TVs which comply with the new EU Eco-label criteria, as of Nov. 1, 2009:

Family LE 700
LC-32LE700E, LC-32LE700S, LC-32LX700E, LC-32LX700S, LC-32LU700E, LC-32LU700S, LC-40LE700E, LC-40LE700S, LC-40LX700E, LC-40LX700S, LC-40LU700E, LC-40LU700S, LC-46LE700E, LC-46LE700S, LC-46LX700E, LC-46LX700S, LC-46LU700E, LC-46LU700S, , LC-52LE700E, LC-52LE700S

Family LE600
LC-32LE600E, LC-32LE600S, LC-40LE600E, LC-40LE600S, LC-46LE600E, LC-46LE600S

Family S7
LC-19S7E, LC-26S7E
Family SH7
LC-19SH7E, LC-26SH7E

Family DH500
LC-32DH500E, LC-32DH500S

Family LE705
LC-32LE705E, LC-32LE705S, LC-32LX705E, LC-32LX705S, LC-32LU705E, LC-32LU705S, LC-40LE705E, LC-40LE705S, LC-40LX705E, LC-40LX705S, LC-40LU705E, LC-40LU705S, LC-46LE705E, LC-46LE705S, LC-46LX705E, LC-46LX705S, LC-46LU705E, LC-46LU705S, LC-52LE705E, LC-52LE705S