"One-of-a-Kind" Story
In 1915, 3 years after starting his business, Tokuji Hayakawa invented a unique thrusting device for a pencil's lead and inserted it into an attractive and sturdy metallic shaft. He called this product the Hayakawa Mechanical Pencil.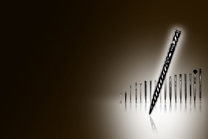 At first, stationers had a number of criticisms: the metallic outer shaft was cold to the touch in winter, and the design clashed with the kimonos that were still widely worn at the time in Japan.
But popularity jumped after a large order came in from a trading firm in Yokohama exporting to the West, and soon stationers in Japan were placing a steady stream of orders for the Hayakawa Mechanical Pencil. Tokuji improved the product by developing ultra-thin lead and he named this newer version the Ever-Ready Sharp Pencil, which became known simply as the Sharp Pencil. The name lives on in our company name today.
1912
Tokuji Starts Out on His Own with the Tokubijo Snap Buckle
Invented by Tokuji, the Tokubijo was a belt buckle that could be adjusted in length without the need for fastening holes. He came up with the idea after seeing a movie character with an untidy, loosely fitting belt. He named his belt the Tokubijo and acquired a patent for it. Orders poured in for this belt buckle, inspiring Tokuji to set out on his own in business.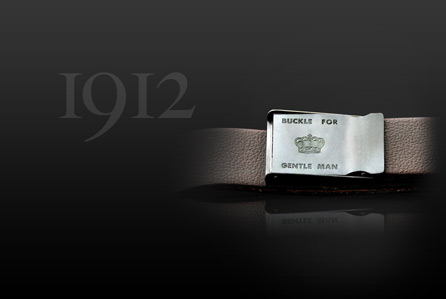 1962
Japan's First Mass Produced Microwave Oven "R-10"
Sharp developed the R-10, Japan's first microwave oven in 1961. The following year, Sharp became the first company to mass produce microwave ovens. It was generally believed that it would take some time for the general public to get used to the idea of cooking without a flame.

Sharp was confident that someday microwave ovens would be a staple appliance in homes but in the meantime the company worked at creating a customer base by selling commercial-use microwave ovens.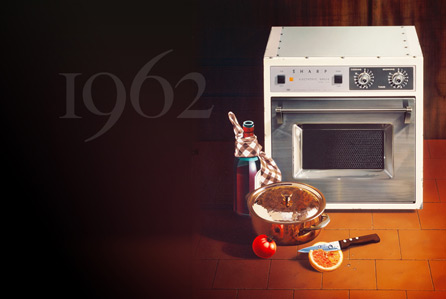 1973
World's First LCD Calculator "EL-805"
Thanks to the tireless efforts of Sharp's engineers, the company achieved the first practical application of LCDs. The EL-805 COS-type pocket calculator introduced in 1973 was the first product on the market to use LCDs.

In December 2005, the EL-805 was one of the calculators recognized with a prestigious IEEE Milestone award.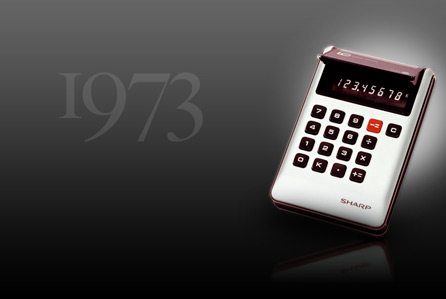 2001
AQUOS LCD Colour TVs "LC-20C1, LC-15C1, LC-13C1"
On January 1st, Sharp released the LC-20C1, LC-15C1 and LC-13C1 AQUOS LCD colour TVs, ideal units for the household of the 21st century. The first AQUOS models boasted the industry's highest brightness of 450 cd/m2 and a look created be renowned industrial designer Toshiyuki Kita to add elegance to home.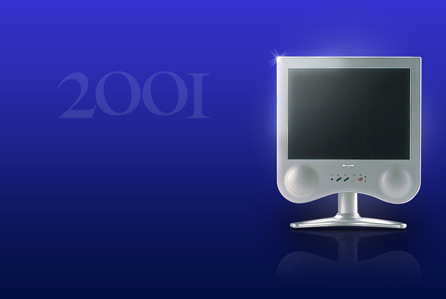 2010
AQUOS Quattron 3D LCD TVs "LC-60LV3, LC-52LV3, LC-46LV3 and LC-40LV3"
Sharp introduced the LV Series AQUOS Quattron 3D LCD TVs, which use four-primary-colour 3D LCDs, a world first. Developed based on Sharp's proprietary UV2A technology, this technology adds Y (yellow) to the three RGB (red, green, blue) primary colours.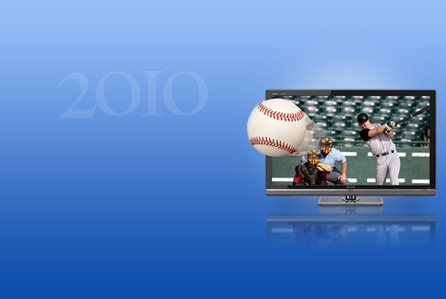 2012
LC-90LE745U - World's largest LED LCD TV
Being a part of our BIG AQUOS TVs, this 90" (229cm) screen diagonal model with brushed aluminum black bezel delivers one of the most natural, vibrant pictures available.

With its built-in Wi-Fi and Sharp's intuitive SmartCentral user interface, you can easily access today's most popular apps or even browse the web.